TURN ME LOOSE FILLY WOWS ON DEBUT
30 OCT 21 | NZ Racing Desk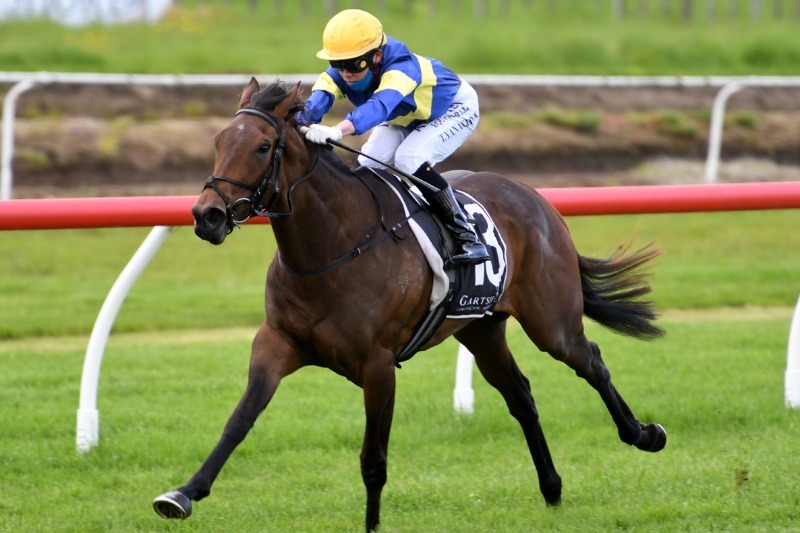 Trainer Rudy Liefting had been expecting a forward showing on debut from his three-year-old filly Stars 'N' Cream (Turn Me Loose), but even he wasn't prepared for what unfolded in the first race at Tauranga on Saturday.
After failing to secure the services of apprentice Erin Leighton and several senior riders, Liefting threw the colours to another apprentice in Taiki Yanagida, with the instructions not to dig the filly up after the start as she was liable to over-race.
An impressive jumpout winner at Ellerslie earlier in the month, Stars 'N' Cream had other ideas and proceeded to devastate her three rivals with a sustained display of full power, front running that saw her up to 15 lengths clear during the 1200m contest, ultimately winning by nine lengths as she throttled down at the post.
Watching from home after being unable to travel to Tauranga from the Auckland area, Liefting was left rueing the small number of starters that saw the filly's win dividend reduced on the tote.
"Usually, I would be quite happy with just the four runners as you just want to get a win, but I was so confident with this filly I was keen to have a decent bet, but the win divvy was pretty small," Liefting said of the $3.30 victor.
"I had rung Gloria Kenny, who bred her, to see if there was any wet track form in the family, but she told me there wasn't really anything at all.
"She has an action that suggests she favours cut in the track, so I just wanted her to have a good experience today and to do everything right.
"I guess you can say she did that."
Liefting prepares the filly for her owners, Chris Jones and Trevor Clarke, having purchased her from the Book 2 sale at Karaka in 2020 for just $6,000.
"I just loved her from the minute I saw her and I said to the boys she would probably go for $30,000 or more," he said.
"When we only paid $6,000, we just couldn't believe it.
"When the hammer came down the first thing I said to them was that we had to go to the bar for a drink as we had plenty left over for a beer."
Stars 'N' Cream is one of two yearlings purchased by Liefting for the pair in 2020, after they had started a buying programme back in 2019.
"We agreed we would purchase two each year and see how we went," Liefting said.
"Funnily enough, of the first two we bought in 2019, I had an El Roca filly ready to have her first start at Pukekohe and she flipped over in the barrier and was a late scratching.
"We got her right and went to the races again at Te Rapa and blow me down if she didn't do it again.
"I was pretty gun shy by then when I got a call from Clint Isdale.
"We discussed what I could do with her, and in the end, we agreed to give her to Clint to have a go with her.
"The filly was named Tina Again and she came out and won two of her first three starts for Clint.
"We have left her with him and I think she is getting ready to step out again pretty soon, so Trevor and Chris have had a pretty good run so far."
Out of the High Chapparal mare Biscuit, Stars 'N' Cream is a granddaughter of Gr.2 Awapuni Gold Cup (2000m) winner Cruizero and is closely related to Gr.1 Auckland Cup (3200m) winner Ligeiro.
Liefting plans on letting her get over her exertions before looking for her next target but is keen to test her in stakes company further down the track. – NZ Racing Desk